Food
Cheese Ball Recipe: A Delightful Party Snack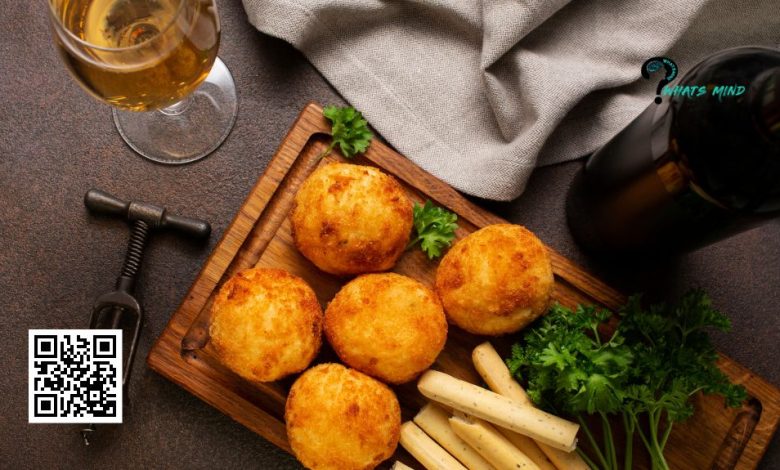 Looking for a simple yet impressive snack to provide at your next party? Try the tried-and-true cheese ball recipe. This classic appetizer can be served in various ways and is always a hit at parties.  For many years, cheese balls have been a standard appetizer at gatherings.
It is easy to make recipes with an amazing lively flavor that is liked by both youngsters and adults. 
In this piece, we'll discuss how to make inspiring cheese balls for your guests. Let's go into the world of cheese and discover the tricks of making the best cheese ball recipe ever.
Ingredients to Make a Tasty Cheese Ball Recipe:
Cream cheese (softened) 8 ounces (226 grams)
Shredded cheddar cheese, 1 cup (100 grams)
Green onions, finely diced, 1/4 cup (60 grams)
Finely chopped bell peppers 1/4 cup/(60 grams)
Chopped black olives 1/4 cup/(60 grams)
Add Worcestershire sauce 1 tsp
Dried garlic A pinch
Powdered onion, 1/4 tsp
Parsley, almost half a teaspoon's worth 1/4 tsp
Pepper, about one-fourth teaspoon 1/4 tsp
Chopped pecans or walnuts, 1 cup (100 grams)
You'd love to read about Huaraches Food
Collect the Ingredients
Having all the materials for the cheese ball recipe on hand before you begin creating it is essential. The cooking process will be so easy.. When you have collected all of the necessary ingredients, you can start to make.
Prepare the Cheese Mixture
Mix all the ingredients including Cream and cheddar cheese, chopped green onions, diced bell peppers, chopped black olives, Worcestershire sauce, garlic powder, onion powder, dried parsley, salt, and black pepper. You may use a spoon or an electric mixer to facilitate mixing.
Give the shape to the cheese ball.
After mixing of all the cheese ingredients, shape them into a ball. Put the ingredients in a bowl and transfer them to a plastic wrap or parchment paper. Convert this mixture into a ball using your hands and the plastic wrap. All the balls should be the same size and weight.
Add toppings and garnishes
Roll your cheese ball recipe in chopped pecans or walnuts for more crunch and flavor. Distribute the nuts in a single layer in a wide, shallow dish. Get rid of the plastic wrap, then roll the cheese ball over the nuts, pushing them gently into the cheese. Keep moving until the nuts have completely covered the surface.
Served and enjoyed
The time has come to serve your cheese ball recipe. Arrange fresh vegetables, breadsticks, and crackers around it on a serving plate. The cheese ball is ideally suited after being refrigerated for at least an hour but can be eaten immediately. The cheese ball's texture and flavor will improve after this.
Tips and Alternatives
Try out various cheese blends to find your favorite. Instead of just cream cheese, try mixing it with blue and goat cheese for a unique flavor.
Spruce up the cheese by folding in some finely chopped jalapenos or a splash of spicy sauce.
Instead of using nuts, you can give the cheese ball a holiday feel by rolling it in a mixture of dried cranberries and minced parsley.
You may make unique toppings by adding grated cheese or chopped herbs like fresh dill or chives.
Related:
FAQ's
Can I prepare the cheese ball before time?
Absolutely! The cheese ball recipe can be made in advance.You can wrap it with plastic to keep it fresh in the refrigerator. Add all the toppings while serving.
How long Can I store cheese ball recipes?
The cheese ball can be stored in the fridge for three to four days. The taste and texture will remain fresh in the first two days.
Can I store the cheese ball in the freezer?
You can freeze the balls to keep it fresh for a long time. Wrap it in a plastic sheet and freeze it the in an airtight container. It has a 1-month freezing window. Please put it in the refrigerator the night before eating it.
Can I use different cheese balls toppings?
Certainly! You can add the toppings of your choice. Use the ingredients like crushed pretzels, crunchy bacon bits, and dried fruit for a unique and amazing flavor.
Can I make a vegetarian cheese ball?
Yes, IT is a vegetarian-friendly dish. You can use Vegan cream cheese substitutes and dairy-free cheese options to meet your nutritional needs.
Conclusion
In a nutshell, a cheese ball recipe is an appealing and adaptable appetizer. It can be served at various events. It is a delicious recipe and can be made to suit any taste. That is why it is still everyone's favorite after many years. Just make your cheese ball masterpiece and see how quickly it becomes your family favorite.
For more recipes visit whatsmind.com