Celebrity
Does Chris Chan Have An Unspeakable Relationship With Her Mother?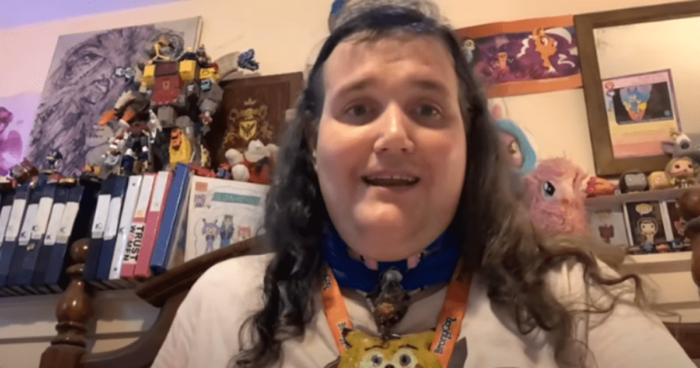 According to the leaked conservation of Chris Chan on the web that spread wildly all over the internet, Chan had intercourse with her mother.
The 40 years old Chan was arrested on August 1st and indicted with incest. The police took notice of the leaked call that purported Chris had a sexual romance with her 80-year-old mother.
Chandler has been a renowned figure on social media. Since 2007, he has remained extensively prominent among the youth. It happened after her enthusiasts caught wind of her comic, Sonichu, through a fringe chat forum 4chan. Sonichu is the animated character cross between two popular animated characters; Sonic the Hedgehog and Pikachu. The character appeared in 2000 and it's the fundamental reason for her fame.
After that, Chandler remained in the limelight, and media outlets followed her moments closely; nothing in her life remained private. Not only fans and media outlets were closely watching her every move, but some were doxxing, hacking, and personifying her possible partners to fetch more information on her.
The young trans girl faced trolls occasionally but one of them trapped her bitterly. Since 2009, celebrity Chris Chan and her mother's conservation, chats, and other personal information on CWCki and Wiki. Many furtive trolls contacted her and threatened to reveal her private chats on social media.
On Friday, early morning, a recording was posted on the Kiwi Farms forum about Chandler's felony. Later, according to the law, she was arrested due to some additional charges that weren't clearly mentioned. David Hailberg, her attorney in a statement to a media outlet advised the viewers to not believe what they read on the internet.
David also remarked; "Mr. Chandler's frequent and over-the-top on the internet" is the consequence of his "mental health" problems; "attention seeking and often provocative engagement" with other people.  That's all that happened with Chris Chan and there's more to the story with time. 
Facts about Chris Chan
Chris Chan is a transgender woman. In her 2017 public post on her Facebook account, she called out to the audience and told them to refer to her as 'she'. Chris changed her name to Christine in May 2016. Later, she also talked about her transition process in her YouTube videos.
Chris Chan's former full name was Christian Weston Chandler. On February 24, she landed on earth. Her father died in 2011 and since then, she's living with her mother with whom she's been involved in a scandal. Presently, she's known for her trolls, creator of Sonichu webcomic, and YouTube vlogging.
Encyclopedia Dramatica, Kiwi Farms, and 4chan often troll her online. They jest at her comics, criticizing her art style and her behavior in their everyday work. They are the ones who leaked her personal information as well. Until 2007, 4chan never took much interest in Chris Chan but it changed that year.
Chris Chan's arrest on felony Timeline
On August 1, 2021, Chandler was arrested. Later, the police charged her with one count of felony and a few pending additional charges. While she was being arrested, a YouTuber Ethan Ralph recorded the scene during his live stream. Ralph as a podcast host correlated with the Gamergate movement and the alt-right.
In the recording, Chris said to Ralph; "Everything is going to be alright."
On Monday, the Greene County Sheriff in Virginia said in a statement that Chris chan was arrested on the report of incest for the subsequent allegations of "sex crimes against a family member."
This news was showcased by the press as well and they reported that Chandler's detention was part of "an ongoing investigation with supplementary charges pending."
On August 2, the police made it clear that no bond or court date has yet been agreed on. No additional information was available regarding this case as the police were still investigating the case.
In Virginia, United States, committing sexual activity with a family member is a crime. Engaging in sexual activity with one's mother or father is a stage felony in the states with ten years in prison as a punishment.
Initially, she stayed in Henrico County Jail in Virginia. Later, she was moved to the Central Virginia Regional Jail.
After Chris Chan moved to Central Virginia Regional Jail, she was declared male. Chan was a transgender female but according to a Jail representative. The representative told the media source that he met with Chandler and she was fine; "Everything is okay."
According to the VINE custody request system, her gender was changed to male. The police didn't give any further brief regarding her change of gender.
Police said in the hearing that day; "There are some personal threats to the defendant and the public at large." That was the reason why she wasn't ordered to be held out by the bond. Her court hearing is scheduled for September 16.
Chris Chan was "housed with women" but this isn't confirmed information. A LAMBDA Legal survey from 2012 found that 60% of transgender or gender nonconforming respondents had been placed in a gendered unit that didn't match.
According to a survey conducted by the National Center for Transgender Equality, incarcerated trans people are nine times more likely to encounter abuse or assault from other prisoners.
What happened on Chris Chan's first court appearance?
Chris Chan in her first appearance to the court said, "I'm famous on the internet." Not only that, but she also asked Judge Kenneth Andrew Sneathren of Greene County to address her with female pronouns.
Chandler also asked for her personal possessions at home that she had with her mom. She made it clear to the court that she "would be willing to proceed with everything if she get her personal possessions".
Green Commonwealth's attorney Edwin Consolvo took the online propaganda and the obstruction of privacy to notice and requested the court to bond Chan. As some people sought the location, they wanted to be careful and avoid any possible threat.
At that moment Chris Chan interrupted the court and said, "I'm famous."
In July 2022, a Reddit post claimed; My question to the law clerk (who is very friendly and I feel terrible for her given the number of calls she is receiving) about the hearing was answered about an hour ago. According to her, a grand jury has been appointed in the case." According to her, Christine's case is now under a grand jury.
There are scarce updates but the popular opinion among the masses is that the one who accused her of a felony may be the real preparator who performed the act and should stand trial.
Further updates on the case regarding incest committed by Chris Chan will be shared with you. Comment down what you think about the progress of this case. 
For more information, visit whatsmind.com