Trending
What's Deez Nuts Joke and how to use this joke to prank others?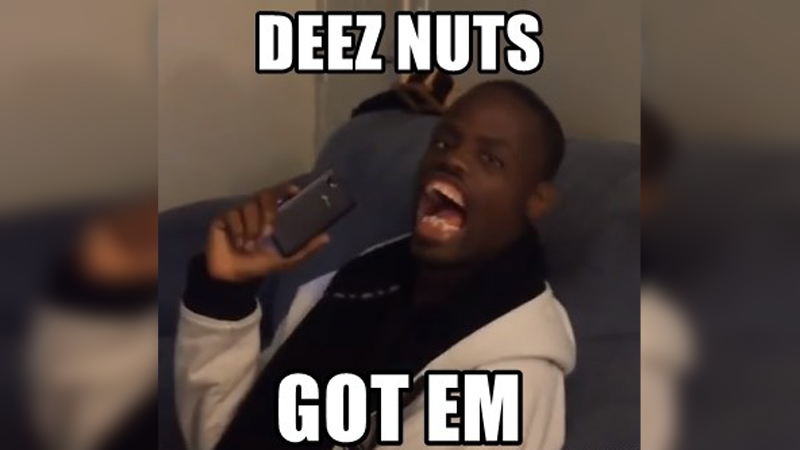 Excuse me, but do you do bofas?
What's bofa? I don't know. 
Bofa Deez Nuts
Have you seen such jokes flood your timeline or feed on Twitter? Or, you became the victim of this joke by your close friends. Nevertheless, you're here to learn more about Deez Nuts because you heard it somewhere but couldn't understand what it meant, right? Let's get to its meaning first and then other things you need to know about this new culture of jokes.
What does Deez Nuts mean?
Deez Nuts is the punchline of a joke layout. One asks a vague question to another person, the answer usually is a solicited follow-up question like; I don't know, I don't think so or maybe, what's that, who…, yes, of course, sure, why, who's in it, why is that, or sure thanks (could be one of 5 Ws as well). And the prankster will surely reply obnoxiously, yelling out the said phrase.
A few examples of such jokes could be;
Do you prefer sodas or smoothies?
Sodas on Deez Nuts
Or, Smoothies on Deez Nuts
I think you will look stunning as a grim reaper this Halloween.
A grim reaper? Why is that?
Grim Reaper bofa Deez Nuts
Knock knock!!
Dee…
Deez Nuts
Dee was asking for you the other day after you left the class.
Deez Nuts!
On Dr. Dee's 1992 rap album chronic, it was a skit track originally. In 2015, when internet comedian WelvenDaGreat used the joke in a short comic sketch on his Instagram post, it went viral and brought the resurgence of this classic song and joke altogether. It could also use in moments of displeasure or frustration.
How to use the Deez Nuts joke?
The phrase Deez nuts can be said by anyone, despite its figurative nature. This trick is primarily used in real-life conversations as an anxiety breaker. This joke on social media forums is generally reserved for trolls and casual chitchat. It can also be used as a putdown in acknowledgment of perceived rudeness.
When someone asserts their offense at another's attitude by ordering them to perform various sexual acts on them. It can also be used as a putdown in acknowledgment of perceived rudeness. Deez nuts have evolved into a widespread online meme. Additionally, it's repeatedly used in prank calls and prank videos as a connection to both Dr. Dre's original song and WendelDaGreat's video.
Where does Deez Nuts' resurgence begin?
On December 15, 1992, West Coast rapper Dr. Dee released his first (debut song). His album 'The Chronic' featured a skit track labeled "Deeez Nuuuts". At the beginning of this song, there was an introduction in which a fellow rapper Warren G is heard talking to women on the phone. Warren G was telling a Deez Nuts joke to her.
Later on September 24, 2004, a renowned website 'Urban Dictionary' submitted an entry on this joke as well. According to the definition of Urban Dictionary, it means; the two most precious belongings of a man and flaunt one's manhood. Often, when it's used, it's to gloat it boasts one's genital superiority. The purpose could be to bugger off someone or to gain a great laugh.
A question that contains the sound "Deez" (these) is often in an open or joke pattern. The desired result is to get the prey's response to the question, enabling one to follow up with "Deez nuts!" Frequently, "in yo face!" is amplified at the end. The trick isn't silly in itself, but it is when you can fool the same individual repeatedly.
On March 20, 2015, an Instagram influencer and musician, @WelvenDaGreat posted a short video clip in which he was doing a prank with his cousin. Walven called him and said to him, "Deez Nuts arrived in your mail." That video went viral garnering 60,000 views in a month and his popularity surged with it as well.
This meme broke into the lame-stream media when Deez Nurs ran for presidential elections. After launching his campaign as a presidential candidate, he made quite a lot of progress and scored the third position in a public poll. Hillary Clinton and Donald Trump we're ahead of him. A Lowa native was pulling the strings of public sentiments when he was just a 15-year-old boy.
Brady Olson was his real name, he registered a pseudonym as he was frustrated with other parties that were battling for the elections. Using such a joke for the presidential election attracted the attention of the public. From then on, it has been a staple joke for native Americans.
Who's Welven Da Great?
Welven Harris commonly known as Welven Da Great is an American social media star and musician. The musician gained limelight in the entertainment world after he posted improv clips on the now-defunct app Vine. Later, he also collaborated with Nitro to produce a song, 'Who don't got no b##thes?'
Born on 31 May 1988, he's 32 years old. During his early childhood, he started living with his cousins and friends as well. However, there's not much info available regarding his parents. According to his cousins, he had lived a life like a normie and a typical kid with a great sense of humor. His humorous aspect makes him the core attraction of every gathering and entertains his family regularly.
Recently, after his market value surged, he had been seen hanging out with various celebrities; Amber Rose, DJ Khaled, and Dan Bilzerian. Furthermore, he has 117k followers on his new Instagram account @WelvenDaGreat. His old account had garnered about 1M followers, but it got hacked. Consequently, he had to change his Instagram account.
The American musician is also presently homeless (as per rumors) and there was also speculation that he died. But he posted a video later, nullifying all the claims regarding his death. Apart from that, he frequently makes appearances in multiple clubs with celebrities and earns great revenue from it.
There's one thing that many people do not know about him, he has a disability. Because of this, he often got bullied in school. 
For more information, visit whatsmind.com