Trending
Why Was There So Much Fervor Surrounding Dream Face Reveal?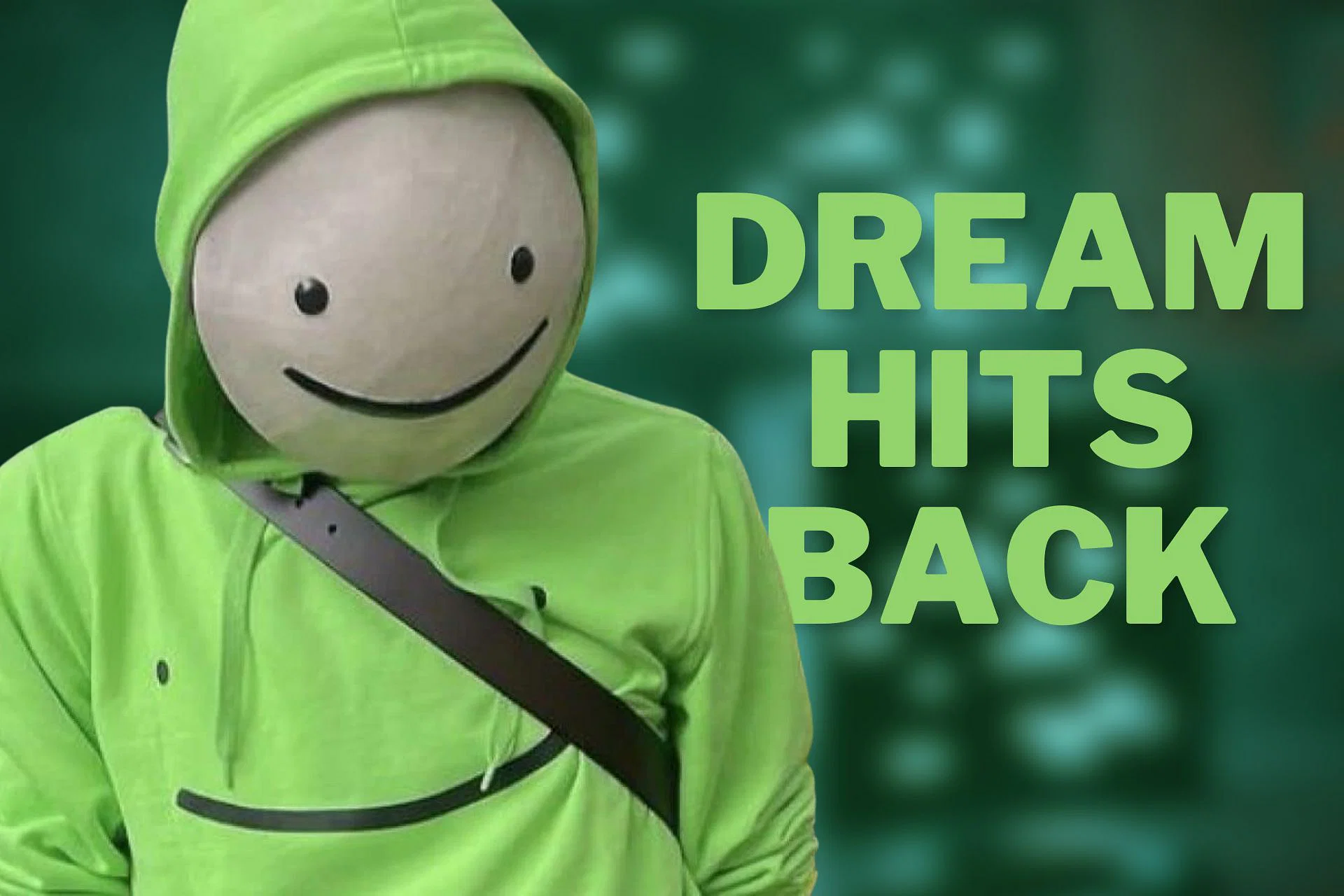 Fans and naysayers had a versatile reaction to Dream face reveal. It was chaotic, optimistic, and cruel. The dream had kept his face hidden behind the mask for years and finally revealed it on Sunday, October 2, 2022. The face reveal was highly anticipated by his fans who were striving to get hints about his real face.
Although, he garnered millions of fans in a short while due to his compelling content and fiery editing skills. But none of his videos had his face openly exposed to the public like other streamers on Youtube. His distinctive approach to posting video edits made him powerful and appealing. 
The no. 2 content creator on the web with 31.2 million subscribers on YouTube is Dream who recently revealed his face to his fans in a video titled 'hi, I'm Dream.' The video is of 5:41 minutes which keeps you at bay at the start. As it seems maybe Clay (popularly known as Dream) is quite shy and awkwardly introduces him at 1:26 minutes of the video.
Before revealing his face, he did get a with the audience and says he's 'revealing his face' but doesn't actually. However at last he puts a smiley mask on his face and finally says, "
Hi, I'm Clay." With a sheepish laugh, he adds, "It feels, feels so awkward talking to a camera for the first time." 
Dream introduced him once again but properly this time,
"Hi, my name is Clay. Otherwise known as Dream online."
This Dream face reveal must be a lifetime treasure for his dyed-in-the-wool fans. If you don't know much about Dream, don't worry. In this article, pretty much the whole preface to Dream has been wrapped up.  
What's the reason for the Dream face reveal?
Dream Face reveal has shocked many and the spectators are wondering what's the real reason for this face reveal. According to Clay, he had claimed that he revealed his face because he wants to meet his fellow streamers.
"It's because George is my best friend.  Currently, he is trying to get an American visa so he can move in with me here in America… If you have seen my other videos, Manhunt, and so on, you have met them. If not, then you should. They're awesome. My watch isn't on and I don't know why I checked."
The other reason is that he wants to have meetups with his fans and do more work in real life rather than being in a closed room.
In his interview with Pallida, he also disclosed that he wants to have a broad setup with exposure to various contents. Having collaborations with other content makers is also the new goal that he wants to achieve. 
You'd love to read about Venom Dunking on Spider
Why did dream want to hide his face from the public?
In one of his interviews, Dream face reveals the reality behind his actions and YouTube channel. At first, he began designing an avatar for his anonymous YouTube Channel. After matching the Discord picture that his ex-girlfriend made, he launched his channel with it. 
Besides, he took off his YouTube channels with various other videos. Shortly, he amassed a decent subscriber which amazed him vastly.  To him, all this happened so suddenly and became part of the fan art and media community without many beforehand calculations. 
Various other reasons come onto his mind after having masked his identity. One of those reasons is that he wanted others to look up their reflection in him. Everyone could observe him as themselves.
The reaction of his fans and other streamers to Dream face reveal
Clay received a mixed reaction. Where my fans were "proud" of him and brimming with happiness on Dream face reveal. Numerous YouTube's reacted to his video and other streamers showed encouragement for his new turn. But many people showed cruel responses to his facial reveal and found it disgusting or ironic.
YouTube's popular content creators; Marques Brownlee and TikTok's Addison Rae posted encouraging remarks on Dream face reveal for the first time. Marquez couldn't help saying, "Most interesting social media campaign." It was a fascinating experience for him according to his comments on the social media app.
His fans encouraged him by posting delightful compliments on Twitter;
"DREAM IS SO LOVELY !!!!! HIS LITTLE HAND GESTURES, SLIGHT MOVEMENTS, HIS SMILE, AND HIS EYES, All MAKE ME DROWSY!!!! HE IS JUST THE BEST LITTLE GUY!"

"DREAM HAS A FLUFFY HAIR, CLEAN HAIRLINE, PRETTY EYEBROWS, WHITE TEETH, AND A SHARP JAWLINE???"

"DREAM GUY. THIS DREAM GUY HAS ALL THE ALPHA MALE GENES."

"Fluffy hair and a mullet as well. Allegedly!"
Some of his fans deviated from this viewpoint and didn't find him amiable. All the hype about the Dream face reveal felt absurd to them. A fraction of those found him disgusting and two-faced due to his cheating scandal and accusations of harassing minors. Such fans took the liberty to compare him to different antagonists or villainous cartoon characters.
"Why does he look like a mash-up of Shrek villains? #dreamfacereveal"

"Pretty sure they're making fun of him because he's racist and ableist."

"A major reason for his hatred is that he has primarily female and gay fans."
Clay's fans weren't oblivious to the trends and black going on about him. The memes and jokes that were made in good spirits also turned into dark and negative aspects soon after Dream face reveal, #putthemaskbackon started trending on Twitter. 
Many people also proclaimed that Dream looked "ugly" or that he used filters or concocted angles that could make him look good which eventually had a hard response from fans as well as neutrals. Some of those are shown below;
"The way some people talk about people with any kind of online platform is genuinely disgusting. you don't have to have an opinion on someone's face!! much less express it!! much less express it directly to that person!! it's a face!! direct your energy to something worthwhile!!"
"Dream is a really normal-looking guy and I fear what being inundated with photoshopped, filtered, and faceted selfies of people has done to an entire generation and their perception of themselves and others."
"Why does everyone care so much?? he's a random dude who likes to play Minecraft and has a pretty good face but even if you don't think so – this is nuts, and makes NO difference to ANY content!!!"
"That people's response to his face reveal is to try and cancel him over the trash he said in the past, which was unfortunate, is more telling about their motivation and focus versus whatever illusion of "accountability" they like to pretend they're vouching for."
All the responses make it evident that when someone gets to some height; especially in this global world, he has to face all kinds of people. Some would appreciate them, some would be jealous or some would cancel them due to their unjustified actions. And it's pretty normal. Hence, Dream also received a massive response from the audience.
In the interview, he mentioned, "Dream could be anyone and from anywhere." The whole situation perfectly exemplified his statement of how a normal 23 tears old dude rose to prominence and still enjoyed a normie lifestyle under the mask.
Who's Dream and what Dream posts on his Youtube channel?
Dream's real name is Clay. Clay was born in America and is a 23 years old young YouTuber. On his YouTube, he posts content featuring the sandbox survival game Minecraft. All his videos are edited by himself.
Unlike other Twitch gaming streamers who narrate the games while playing and show live action on the camera. Their streaming is just like seeing a fellow player playing the game and most of them are pros at what they are showing. Hence, many people use them as a guide to build and follow up with their games.
Unlike them, Clay's videos are highly edited with sound effects, layered cartoonish chorus, and songs overlayed with video games. 
We suggest you to read about Danielley Ayala
How did Dream become a member of DreamSMP?
Due to his incredible gaming abilities and remarkable audience, he became friends with numerous other gaming streamers. Not until much time has passed since he started his own channel on YouTube, he became a co-founding member of discord server DreamSMP as well along with his best friend GeorgeNotFound.
This Discord server had become an incubation camper for the impressive and talented people on YouTube. His group carries out role-play strategies having overarching descriptions. These features make him quite spectacular, stunning, and serialized.
In 2014, he took off his journey on YouTube with his first video on finding PewDiePie seed in the Minecraft game. Until today, it has been roughly three years since he launched his channel. Manhunt videos are the most popular among his fans and other players.
In Manhunt, he does his best in overthrowing the game swiftly and keeping himself shielded from the attack of someone trying to hunt him down. Eventually, he kills his character at the end. In less than two years, he became a YouTube sensation raising his followers from 1 million to 30 million in 2 years.
In 2020, he was also awarded the title of YouTube's top breakout star, and No 2 creator of the entire platform. DreamSMP members have facilitated one of the most prolific and enormous fandoms of the late 2010s and early 2020s. This Discord server isn't just an engrossing sensation on YouTube but TikTok, Twitch, Tumblr, Twitter, and various other platforms also add up in their popularity. 
In 2021, fanfic surfaced on the web. The fanfic was about a DreamSMP member, GeorgeNotFound and Dream. The genre of the high-rated fanfic was the romance between the two youngsters. Clay's roommate, Sapnap also appears in his videos occasionally and has the Eighth rank on Twitter or the most tweeted about the creator. Whereas, Clay has the rank of Fifth among the most-tweeted-about creators on Twitter. 
Also Read: Skai Jackson
Insights on Dream and his cheating scandal
Like other famous influencers, this rising celebrity wasn't exempt from blowback. Soon after his fame surged, a scandal came to the surface as well. In 2020, a cheering scandal came about him as the central suspect. A 14-minute-long video was published by a Minecraft moderation team.
The moderation team looked over the record and submitted a research paper that had the abstract of the two-month investigation into Clay's speed runs. Due to some randomized aspects, there was wind at a certain duration in Minecraft as portrayed by the research paper. Consequently, those clues lead to accusations of Clay of being a suspect of cheating in speed runs.
Until now, he hadn't admitted to the accusations and denied them vehemently. In his recent interview with Youtuber Anthony Padilla, he confessed that he should have reacted impulsively to the accusations being thrown at him. But he was immature at that time. Apart from that, Clay announced, he "handled the situation horribly."
Likewise, he also proposed a solution that he should have followed at that time. He said, "I should have shut off all my devices… not react with emotion." Presently, he has an even huge fan base than before. Some fans argue that he hadn't retained enough in the past to intervene or stop his fans from harassing others on social media.
What are your thoughts on the Dream face reveal, do comment about it? Did he fascinate you or wasn't up to your expectations? Comment below!