TV shows today are evolving. Reality TV has become a major media genre in the last 10 years. It includes everything from cooking competitions, to love shows & relationship shows. These focusing specifically on love have become goldmines in networks. Shows ranging from Bachelors to Love is Blind have gotten high viewing ratings on television. I think the viewer is hoping they'll see a genuine romantic relationship between their characters. Maybe there is someone who loves watching the drama of this show (Married At First Sight)?
Married at First Sight is an American reality show featuring people who have never met before. In the reality show, experts advise the contestants to get married to other contestants. Contestants have to lion their guards up and choose someone to get married to.
This might seem bizarre but it's true, just how love at first sight happens. Likewise, marriage could happen too and experts say it's an efficient method for those people who have drained their energy finding a good partner to date. The series is based on a Danish series 'Gift Ved Fòrste Bilk'.
Seasons
It has a total of 15 seasons. The fifteenth season of Married at First Sight is focussing on couples from San Diego. It started airing on July 6 this year and is still ongoing. All the results are yet to be finalized.
You would love to read about December Birth Flower
Married at First Sight Couples 2022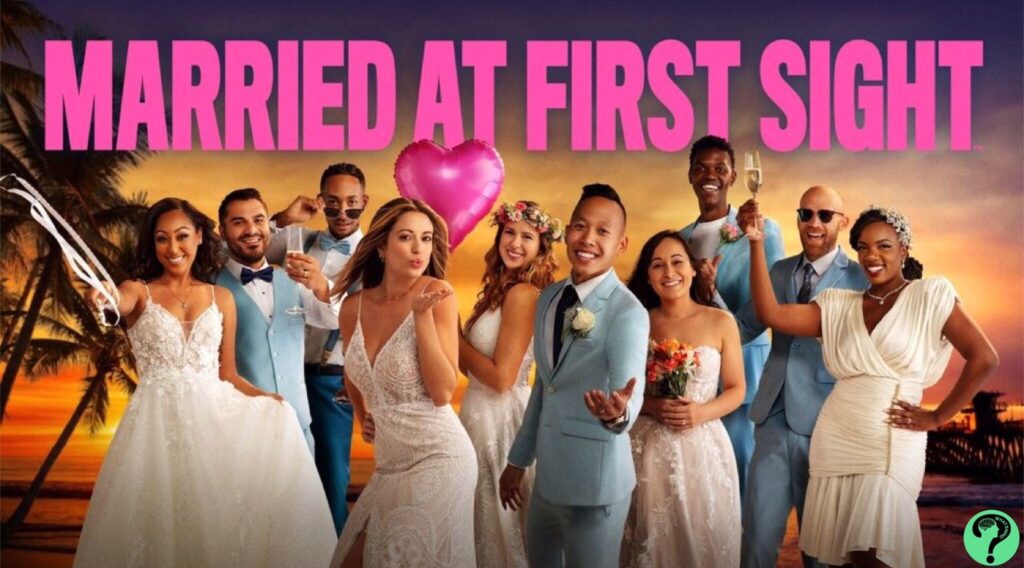 Stacia (37) and Nate (34)
Alexis (29) and Justin (33)
Lindy (29) and Miguet (35)
Morgan (29) and Binh (29)
Krysten (32) and Mitch (41)
Why you should watch this show or participate in this show?
Many people wonder about this question. Why there's a need for this show "Married at First Sight?" Here are some major and intersting facts and reasons how it helps out people.
First-hand experience of reality
We all fantasize about marriage or relationships. We always think about what married life would be like and how we cope with that life. Moreover, a relationship and being married both are far different things. Everyone has their own demands or conceptions, but not everyone knows whether they are the right ones for them. Or they have just taken them on after being influenced by someone. 
Also read:
Opportunity
Opportunity is a contextual word. In our life, we are always jammed by people around us. We have a lot of people around us with various unique personalities but which one is made for us is confusing. Wondering why I can't find a faithful partner or why my relationship isn't working out is a daily nuisance. But when you are in a show and get real-time advice from the experts, how would it be? Enthralling, right? This is something you don't get in your normal life.
Choice
Everyone in the world advocates for freedom of choice. I, you or me, we all want to make our choices ourselves. Don't we? This show guides us in making a choice. At the end of this show, you can tell whether you want to stay as partners or not.
Experience
As Dr Pepper Schwartz has said in her Instagram post that all the couples learn something from the show although they get divorced later. At the very least they get to know, what expectations they had in the reality and how feasible they proved. Secondly, they get to know themselves better. They realize what kind of mistakes they could do in their own marriage (if not in the show one). The horizons of their views get broad and they learn a lot of new things.
Which couples are still together in 2022 from 'Married at First Sight'
Season 1
Jamie Otis Hehner and Doug Hehner
Season 5
Ashley Petta and Anthony D'Amico
Season 6
Shawniece Jackson and Jephte Pierre
Season 7
Danielle Bergman-Dodd and Bobby Dodd
Season 8
Stephanie Sersen and AJ Wollmoeller
Kristine Killingsworth and Keith Dewar
Season 9
Elizabeth Bice and Jamie Thompson
Deonna McNeill and Gregory Okotie
Season 10
Jessica Studer and Austin Hurd
Season 11
Karen Landry and Miles Williams
Amani Smith and Woody Randall
Season 12
Briana Miles and Vincent Morales
Season 14
Katina and Olajuwon
A total of 13 couples are married in 2022 from the Married at First Sight reality show with a success rate of 24%. The results of the show aren't favourable but still, it's a big hit and many people love watching it.
FAQ Questions
Do the couples get paid in Marriage at First Sight?
Nasser Sultan and Mikey Pembroke, both participants in 'Married at First Sight' broke the silence about the allowance they get from the show. Nasser said that he got an allowance on daily bases while filming the show about $150.
He expressed his grief that the show took a heavy toll on him financially as they had to spend on rent, groceries, their girlfriend and other necessities. Likewise, Mikey told in a podcast that he only made 1000 Bucks from the show. Although the show is beaming with ratings but they don't get paid as participants. He hoped that this thing change in the near future.
Another contestant Clark Sherwood of MAFs also claimed that there is no financial gain from participating in the show.
Is marriage at MAFs legally binding?
No, the couples don't have to sign any pre-nuptials. They just exchange vows and rings with each other. That's it. But on the final decision day, they are still resolute on marrying each other. Then, no one could stop them to proceed with their marriage legally.
Are MAFs couples actually married?
No, the couples in 'Married at First Sight' are not actually married but act like they are married for 8 weeks to get to know married life.
Is MAF scripted?
MAfs couples don't follow any scripts but act according to their instincts and behavioural habits. It's totally genuine and all the happenings between the couples are real.
Does MAF pay for the couples' honeymoon and wedding dresses?
Yes and no. MAF gives a stipend to the participants on daily basis according to a source and they have to manage everything in that money. Further details aren't known yet.
How much do experts at MAFs get from the show?
It has been rumoured that the experts on the show 'Married at First Sight' are paid about $50,000 approx each for the entire series and they aren't happy with it. They want their pay to increase or they would have to turn MAFs down.
MAfs is real. Here couples are tied into a knot and as well as they decide to get a part just like in normal life. But the process isn't as painful as it could have been. Whereas, people also get to compare them from the couple's on stage and sort out their expectations of a marriage.