Tech
eResource Scheduler – Booking Resources for Projects Using Real-Time Scheduling Charts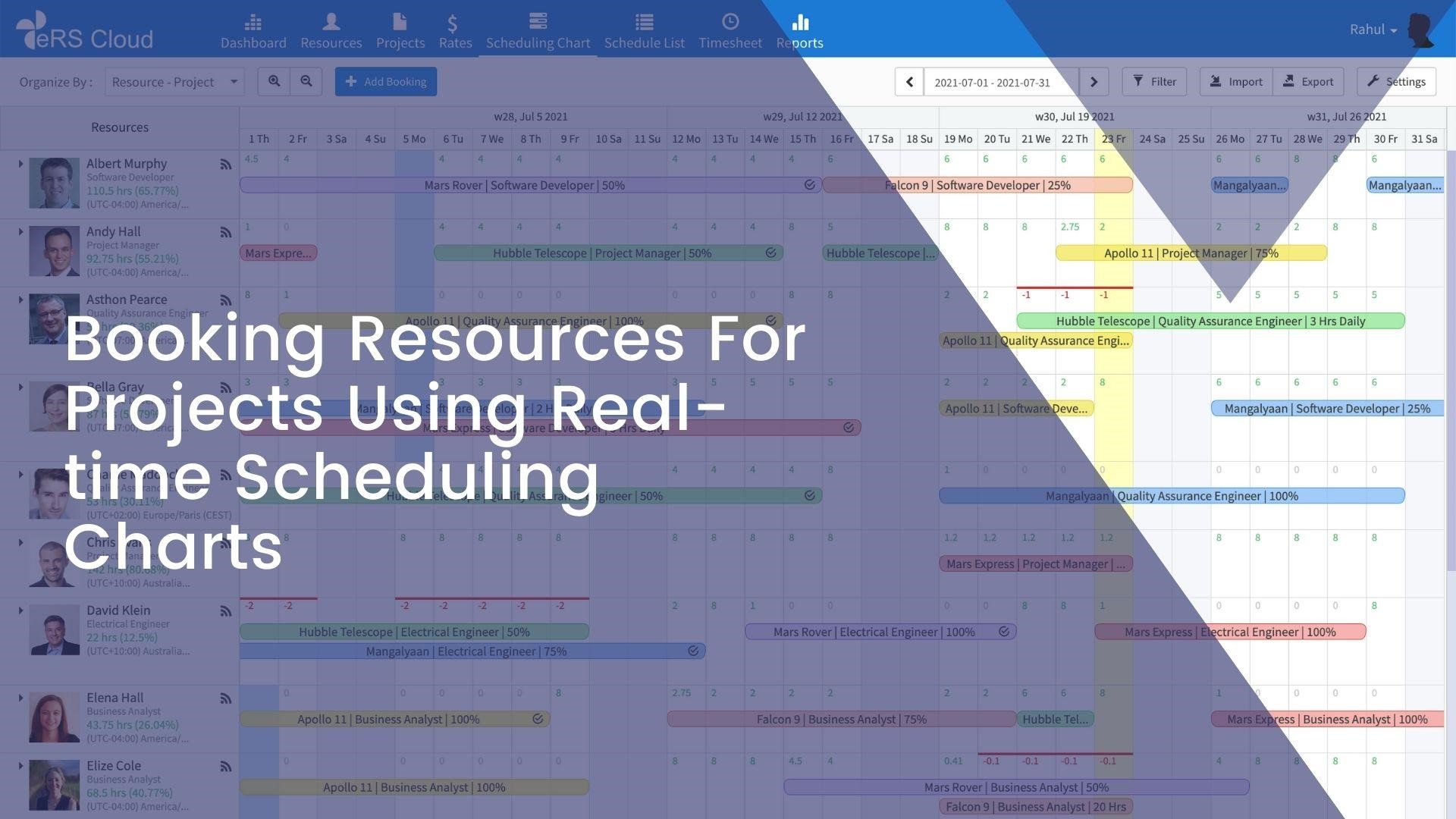 "A plan is what, a schedule is when. It takes both a plan and a schedule to get things done."
– Peter Turla
When you undertake a project, you plan its execution keeping in mind the resources and time available to you. You list the processes and methods that are to be applied to complete the project, as well as the knowledge, skills and experience of the human and other resources that you need to carry out these processes. This is done through resource scheduling with the goal of achieving specific pre-determined project objectives. Resource scheduling software is an efficient route to take to accomplish this.
What is Resource Scheduling?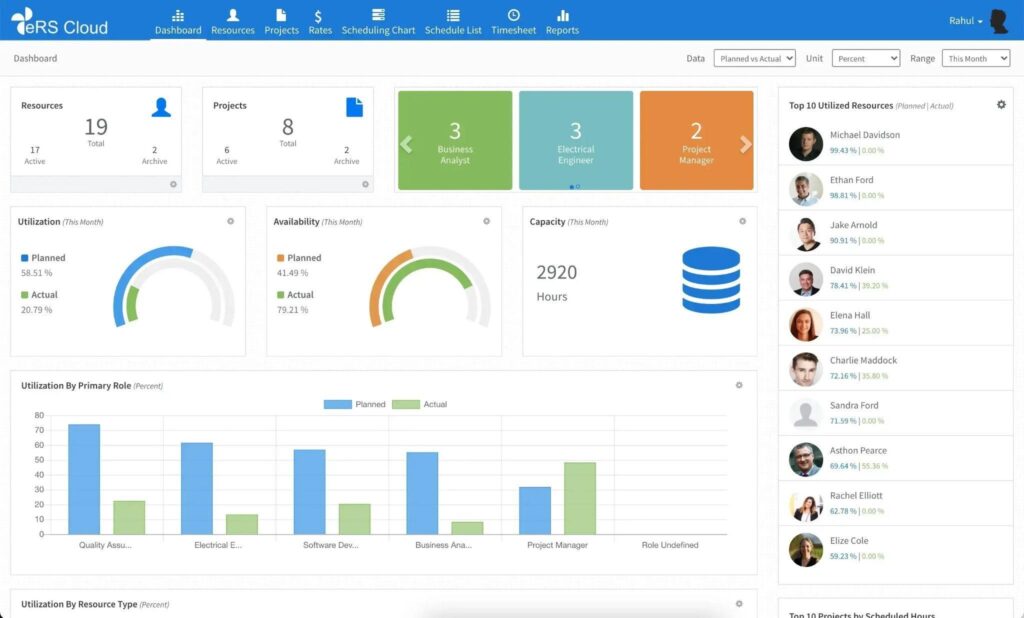 An integral and key step in project management is allocating and scheduling your resources to accomplish these set goals. Resource scheduling thus involves choosing the right resources for a project and then optimally utilizing them for the various tasks and projects to achieve the goal. Every project consists of various tasks or activities that need to be carried out to complete the project. Resource scheduling can be summed up as:
listing of these tasks
calculating each task's effort
scheduling the timeline to accomplish each task
setting deadlines
identifying resource capacity and availability
listing potential bottlenecks and constraints, and
using all of this information to match the right resources to the various tasks for efficient resource utilization.
The right resource planning software can make this an easy job for any project manager. By matching the resources and the tasks, you will be able to manage and plan the capacity aptly and will never face any under or over-allocation challenges. With its impact on the project timeline and schedule, the resource scheduling step is crucial for planning new projects and for executing existing ones as well.
How is Resource Scheduling Carried Out?
Resource scheduling is not a new phenomenon. It has been around since business started. Traditionally each business would use its system to keep track of resources and their utilization to complete the project at hand. But for larger organizations, a more formal tool is of imperative importance.
Resource scheduling typically involves using a set of tools to help collate, allocate, and schedule the available resources. Project and resource managers have a host of tools available for scheduling the available resources, ranging from simple spreadsheets to calendars to timelines to more sophisticated resource scheduling software.
Scheduling software gives you an overview of current projects in the pipeline, projected timelines, available resources, and how they are being utilized. Using resource scheduling software offers you a ton of benefits. You can:
Move around resources amongst various projects faster
Avoid over-booking or under-utilizing various team members
Have greater clarity about your team's capacity and utilization
Assign tasks to various team members more easily
Allocate the available resources for more efficient and effective utilization
Easily make adjustments to timelines for various tasks
A Gantt chart is one of the most common and popular tools in enterprise resource scheduling.
What is a Gantt Chart?
It's not so easy to consolidate data on multiple projects on traditional tools like spreadsheets; they also don't provide real-time data. Double bookings, discrepancies, and delays are common constraints of such tools.
Whether you are scheduling resources or setting project deadlines or allocating resources to various projects, an automated scheduling system ensures you work smarter and increase productivity. There are several web-based resource scheduling solutions available for you to use, and these are great for smaller businesses and projects. As the number of projects goes up, it pays to invest in resource planning software with a scheduling tool.
The Gantt chart is one of the most-used time-schedule tools in project management. It displays the planned project tasks or activities graphically and shows the scheduled timelines and available resources employed on different projects.
This relationship between activities and time (whether as days of the month or working hours in a day) can be displayed as a bar graph or in calendar form. These time and activity charts convey this information visually, making it easier to assimilate information quickly. They can be used for:
Project planning
Resource scheduling
Managing various project activities
A Gantt chart is one such typical time and activity chart that is used for planning activities or projects with a pre-determined start and end date. It details all the tasks of the project that need to be completed, the relationship between the various tasks, and the time and resources required. It helps you to understand the workflow as well as how resources are being utilized. These charts evolve and project managers can get an instant real-time overview of a project, its various tasks and the timelines, making it easier to organize schedules and keep the team in the loop about the progress of the project.
Gantt charts are also useful for scheduling. Scheduling charts convey when each task will be completed and help you keep track of the project's progress and deadlines. The visual display makes it easy to ascertain if the project is on schedule or not, making it simpler to take timely corrective action. And real-time updates on scheduling changes help flag any loopholes too.
How a Daily, Weekly, and Monthly View in a Scheduling Chart Benefits Project Managers
Resource scheduling software shows scheduling charts in calendar form. The real-time updates help the project manager to easily identify available resources and allocate them for projects. It shows utilization and availability in hours, making it convenient to check for overload and reassign resources accordingly.
Some resource schedulers have the option to show the resource bookings on projects with hourly, daily, weekly, and monthly views. Such charts offer you the distinct advantage of showing you instantly what everyone is working on and when a resource will be available. Managers on different projects can schedule resources without any clashes and can choose to get alerts when resources become available.
Scheduling charts that display a monthly, weekly, daily, and even hourly view make life infinitely easier for project managers. The many benefits of scheduling charts include:
Real-time records of resource availability and utilization
Efficient and quick scheduling – easy to make new bookings as well as attach multiple resources to the same task
Effective management of available resource capacity
Being able to see at a glance how the resources are being utilized and on which project
Immediately become aware of any resource shortages or excesses, and be able to reassign resources
Help track and organize future resource requirements
eResource Scheduler – One of The Best Resource Scheduling Software You Can Get
A top-rated resource planning software, eResource Scheduler helps you improve your resource utilization by up to 30%. It's simple and easy to use. You can get a real-time bird's eye view of all your ongoing projects, your entire resource pool as well as the way they are being utilized. It offers you the most efficient scheduling chart to plan project timelines and deliverables, making it easy to adhere to budgets as well. Investing in eResource Scheduler will help make your resource planning more precise and efficient. It provides insights into the productivity of each resource and helps enhance resource utilization by making it possible to complete more projects with fewer resources, thus leading to greater project profitability.
Visit Whatsmind for more interesting articles.