Trending
What are the Top 6 Different Types of Gun Rails?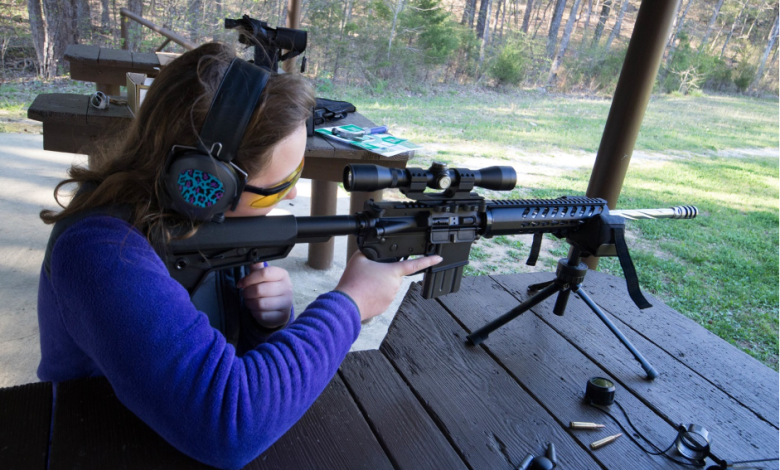 If you're shopping for AR-15 accessories, you've probably realized by now that there are countless different types of gun rails available.
Choosing the right types of rails on guns is a dilemma many gun owners face. It can be so overwhelming – where do you even start?
Luckily, we've researched and compiled the pros and cons of each type of gun rail, including the Weaver rail, KeyMod, Dovetail rail, Single-piece, M-LOK, and Picatinny rail.
Let's break down the facts about these top 6 different types of rail systems. Keep reading to learn more.
What is a Gun Rail or Mounting System?
Gun rails and mounting systems are used primarily to stabilize firearms. They provide a firm gripping surface that can make shooting easier and safer. They're especially useful for people who have trouble gripping heavy guns. Gun rails and mounting systems also make it easier to mount scopes and other devices to the gun.
Safety regulations require gun rails and mounting systems on some firearms. For example, rifles that carry more than a specific amount of ammunition must be equipped with a rail. In some states, there are additional regulations about rail length and mounting locations.
Some gun rails are universal, meaning they can be used on a variety of firearms. Some rails are designed specifically for a particular firearm brand, model, or caliber.
If you're not sure what type of rail or mounting system to use, you may need to consult the gun manufacturer's or owner's manual.
1. Picatinny Rail
The Picatinny or NATO rail system allows the gun owner to mount a wide variety of optics and accessories on a firearm. The Picatinny rail system is widely used, but many gun owners do not want the added weight that comes with it. There are other lightweight options when it comes to gun rails, such as the M-LOK.
It's usually easy to spot a Picatinny rail because of its unique shape and size. However, telling the difference between a NATO rail and a MIL-STD-1913 is nearly impossible with the naked eye.
Important details when using these types of rail mounts on guns include:
MIL-STD-1913 accessories also work with Picatinny rails
A Picatinny accessory will work on both rails, but it is best to use a Picatinny rail to take advantage of the upgrades
A Picatinny rail is backward compatible with the MIL-STD-1913 rail
Typical Uses
The Picatinny rail is used for scope mounts. It is also used for accessories such as vertical grips, extra sling mounts, bipods, and more.
Pros
Widely used in the AR-15 market (popular, lots of accessories)
Excellent for many different types of gun accessories, from sling mounts to scopes.
Government standard results in interchangeability and compatibility
Uniform recoil slots provide flexible mounting along the length of the rail
Cons
Heavier weight on the forend
Repeat-ability of mounting, particularly scope mounts (this can be solved with the NATO upgrade)
2. KeyMod
The KeyMod system is designed to be used as an attachment method. The purpose is to eliminate the need for 1913 railings that cover the entire handguard. The KeyMod system allows the user to place the MIL-STD-1913 rails as needed. It consists of two main parts: a KeyMod nut and a KeyMod slot.
Typical Uses
You can attach many firearm accessories with the KeyMod. These include accessories such as scope mounts, hand stops, rail panels, laser modules, flashlight mounts, barricade supports, sights, vertical grips, and many others.
Pros
It is an open standard, which means multiple companies produce products using a KeyMod attachment system. This increases the amount of accessories available, as well as ensuring interchangeability and consistency. This rail also provides good spacing for versatility in mounting positions.
Cons
There are not many apparent cons to the KeyMod. A few may include:
Aesthetics (based on opinion)
Price to manufacture
Not as impact-resistant with drops
3. Dovetail Rail
There are three common types of Dovetail rails to know about:
The 3/8" inch dovetail rail system is popular in the rimfire and air rifle market for the US.
The 11mm dovetail rail is common for several of the low recoil markets in Europe.
Roughly a 14mm dovetail rail is commonly seen in the soviet/eastern block firearms market. The AK-47 uses a side-mounted dovetail (also referred to as a Warsaw Pact Rail) that measures approximately 14mm at the top of the rail.
Typical Uses
The dovetail rail is typically used to attach scope mounts.
Pros
One of the advantages of dovetail rail systems is that the 3/8" and 11mm dovetails are a common mount for air rifles and rimfire.
Cons
Even though the above-mentioned sizes are common, there is no one specific size in the industry.
The small size of the dovetail is adequate for a low recoil rifle. However, a Weaver or Picatinny base creates a stronger platform to mount optics.
4. Weaver Rail
Weaver and Picatinny have essentially the same profile. The most striking feature is the size and location of the recoil slots. Most weaver rail mounts are application-specific, so the location of the slot is defined by the application.
As a result, some Weaver accessories can be attached to Picatinny/ NATO mounts. However, Picatinny/ NATO accessories typically do not work on weaver rail mounts.
Typical Uses
Used mainly for mounting optics or sights
Pros
Been around for many years, resulting in a large range of compatible accessories
Cons
The disadvantages of weaver rails include the repeatability of mounting, especially scope mounts. There are also very few mounting choices along the length of the rail.
5. M-LOK
In the years since the release of the MOE slot system, millions of accessories compatible with MOE slots have been manufactured. Initially introduced as a Magpul system, several other companies have built MOE slot compatible accessories since their release.
The MOE system was never formally released as an open standard and had limited use because it required access to the back of the mounting surface. Depending on the accessories chosen, there may not be enough spacing increments for placement. Due to these features, MOE slots and accessories were not very ideal for use with free-float handguards that do not have access to the rear mounting surface.
Instead of documenting and publishing information about existing MOE slots and weld nut systems, Magpul engineers took this opportunity to significantly advance the feature set of MOE systems. The result is the M-LOK rail system.
The new system adds many features, including:
Multi-directional mounting
Recoil/impact mitigation lugs
Backward MOE compatibility
Cammed T-nut
Direct Mount Capability
Optimized for polymer and metal manufacturing
Intermediate spacing advantage
Typical Uses
M-LOK stands for Modular Lock system, and it is great for a lightweight AR-15 handguard. It can be used to attach accessories such as vertical grips, extra sling mounts, bipods, lasers, lights, and more.
Pros
The advantages of the M-LOK rail mount system includes:
It has good spacing increments for versatility in mounting positions
The accessories are easy and quick to load while maintaining impact and recoil stability
This rail system is an open standard, meaning multiple companies produce attachments using the M-LOK attachment system. This makes for a wide variety of choices for attachments.
Cons
When it comes to the M-LOK rail system, there is not a common disadvantage to mention.
6. Single-Piece Mounts
One-piece or single-piece mounts are sturdy and generally easy to mount, making them easy to handle. You may need to use it with a railing.
The single-piece includes a base that connects to the gun with a suitable securing mechanism and ring.
Typical Uses
Due to its uniform structure and maximum rigidity, the one-piece is popular for high-recoil calibers.
Pros
The biggest advantage is that you don't have to think too much about adjusting the scope or rings. The one-piece mount does it for you.
Cons
They are not very popular with bolt guns as they can block bolt action. Certain single-piece mounts possess a cut-out that clears the chamber and allows for easier access. These are usually fully assembled and therefore heavy mounting systems.
If you have big hands, thick fingers, gloves, or want access to reload cartridges, clear jams, and more, you may want to consider the two-piece mount may be a good choice.
Find the Types of Gun Rails That are Right for You
With so many different mounting and rail systems from which to choose, it's important to research what works best for your application. This guide should give you a great start to the most popular types of gun rails and mounting systems, and the pros and cons of each type.
If you're looking for more tips and tricks on firearms, check out more articles on our blog!