Trending
Looking For a Non-Clinical Nursing Career? Check Out This List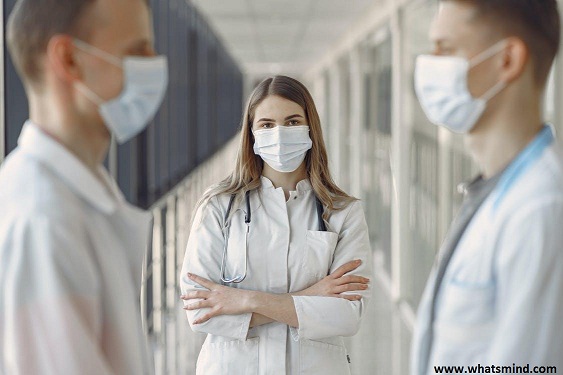 Have you ever wanted to leave the world of "bedside nursing" and do something better and more fulfilling? If so, then we're glad you came here. This article will give you a list of all the fantastic non-clinical nursing roles you can pursue to create a satisfying future for yourself and others.
As we are discussing on Non-Clinical Nursing Career. Nurses are the foundation of a hospital. They are empathetic enough to understand everything and strong enough to tolerate anything. Suppose you are interested in becoming one or already working as a registered nurse. In that case, you probably know the horrendous obstacles that the job can bring.
Working as an RN typically means helping patients suffering from gruesome illnesses or injuries, not to mention always being on your feet. That is the kind of environment that many RNs imagine. However, it is not the kind you are bound to have. Even if you start as a registered nurse, you can't expect yourself to stay in one spot for the rest of your life – can you?
Nevertheless, the most exciting thing about having a career in nursing is that it offers a wide variety of career paths and roles, be it clinical or non-clinical. Hence, you will never get bored working in this rewarding industry.
So, without further ado, here is a list of the most incredible and high-paying non-clinical nursing jobs available for those who need a change of pace.
1. Family Nurse Practitioner
A family nurse practitioner – most commonly referred to by the acronym FNP – is an RN with clinical training and specialized education in family care. Compared to registered nurses, nurse practitioners have a higher degree of training in clinical settings. However, that doesn't mean that becoming a registered nurse is a low-level position – it has its prerequisites.
So, suppose you're a registered nurse looking for a spring in your career. In that scenario, applying for a degree that paves the path to becoming a family nurse practitioner can prove beneficial. Since virtual learning is the new norm, acquiring higher education is affordable and more convenient than ever. So, if you've done a bachelor's in nursing, an online MSN FNP should be your next step to master the science and art of patient care.
As a family nurse practitioner, your job would be to administer treatments, conduct check-ups, screen for disease symptoms, and order tests under the premise of improving a patient's overall health. Moreover, FNPs usually function under the supervision of a senior physician. However, more and more states are allowing FNPs to work freely due to a tremendous lack of medics, particularly in family practice.
2. Insurance Nurse
As we are discussing about Non-Clinical Nursing Career. Insurance nurses work for insurance companies, as you might expect from the title. They provide health assessments to determine insurance rates. They also analyze health data to assist with the development of benefits and pensions. Many insurance nurses also work as case managers, combining a variety of responsibilities into a single position.
Furthermore, insurance nurses conduct analysis and research and report their findings to their clients' representatives. For this position, it is also advantageous to have an interest in and understanding of statistics.
3. Aesthetic Nurse
Also known as cosmetic nurses, aesthetic nurses work in plastic surgery, dermatology practices, and medical spas.
Non-surgical cosmetic treatments are typically assisted and performed by aesthetic nurses. Performing laser hair removal treatments, cellulite sculpting treatments, and giving Botox injections are all possible tasks that an aesthetic nurse can do.
A successful aesthetic nurse is skilled at making patients feel at ease and confident. These nurses also educate patients about procedures, including the process, potential side effects, and aftercare. Furthermore, most surgeons are looking for RNs who have additional cosmetic training for this very position. Some employers provide on-the-job training in this field, teaching you how to use various lasers or administer types of injections.
4. Certified Nurse Midwife
Nurse-midwives are frequently found in women's health clinics and specialized birthing facilities. They may also choose to work in patients' homes, public health clinics, or private practices. They also work in hospitals because they can deliver babies.
A certified nurse-midwife is an Advanced Practice Registered Nurse who has received specialty training in childbirth and women's health care. You'll help women before, during, and after delivery by providing clinical prenatal care.
So, to be a nurse-midwife, an RN degree and significant experience in women's health are required, and most facilities prefer candidates with a master's degree. Moreover, you will also need a midwifery license and other typical nursing credentials to operate in various facilities.
5. Home Health Nurse
Home health care is a burgeoning nursing specialty. A home health nurse, as the name implies, cares for people in their homes. The nature of the care and responsibilities stem from the individual's health and why they require a nurse. According to the BLS (Bureau of Labor Statistics), approximately 12.8% of nurses work in-home healthcare services. It indicates that this field provides an opportunity to support patients outside of a medical facility.
Treatments vary depending on the individuals you treat. For instance, you may go to a person's home to treat injuries or offer wound care. Other nurses assist families who are caring for frail or elderly family members at home. In that case, your responsibilities may be more intricate, and you'll need a permit in your state as well as additional education to administer specialized care. The patients determine the standards/tasks you assist with at home. The ultimate factor is your willingness to visit them at home for treatment.
6. Medical Biller
Medical billers are responsible for gathering payments from insurance companies as well as patients. They may create medical bills and mail them to the patient's home or bill the insurance company for services rendered using health codes. A medical biller's additional responsibilities may include:
Updating patient financial records.
Maintaining detailed accounts receivable and payable records.
Developing payment plans with patients.
Furthermore, nurses can use health informatics to ease the process.
Also read: How to apply for summer internship
Conclusion
The last is about the Non-Clinical Nursing Career. Undoubtedly, finding the right career path in nursing is not an all-or-nothing endeavor. It would help if you didn't lose yourself trying to hop onto the perfect track to nursing, as there are plenty of non-clinical jobs available. And as with other healthcare professions, non-clinical positions are high in demand.
The positions listed above don't even begin to describe all the non-clinical job opportunities for nurses either. Still, they are an excellent jumping point to think about when you need a slight change in your career. Moreover, understanding yourself and what motivates you is vital in the self-discovery process and picking the right path. Lastly, the most important thing to remember is that gluing yourself to one destination will never be enough – you have to keep moving forward.
For more information, contact us at Gmail